Distinguished Business Alumni Award
The College of Business (CoB) Alumni Association established the Frank L. Simonetti Distinguished Business Alumni Award in 1987 to recognize distinguished alumni in the name of Dr. Simonetti, a fellow alumnus, dedicated professor, and friend in the College of Business Administration.
Selection Criteria
Honorees must be living graduates of The University of Akron College of Business Administration and must satisfy one or both of the following criteria:
Achievement of excellence in his or her profession or vocation to the extent that it brings recognition and honor to the college and University
Service over a period of years to his or her community and/or to society on the national, state or local level, and to their alma mater.
About Dr. Simonetti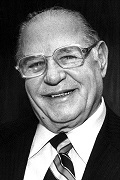 Dr. Frank L. Simonetti '40
1915-2006
Dr. Frank L. Simonetti graduated from The University of Akron in 1940 with a bachelor's degree in business administration. He began his teaching career at The University of Akron in 1942 as an instructor and moved through the ranks to associate professor in 1952. When the new College of Business Administration was established in 1953, Dr. Simonetti was named as the first department head of management. The following year he was promoted to the rank of professor.
As the department head, Dr. Simonetti developed the management undergraduate curriculum and designed and implemented the graduate curriculum leading to the master's degree in business administration in management. He originated and directed the University's annual Management Development Seminar, and directed the preparation of the initial report leading to the College of Business Administration's accreditation by the American Assembly of Collegiate Schools of Business. Dr. Simonetti also served as a consultant to other universities, as well as to government agencies and private organizations.
Dr. Simonetti headed the management department until 1981, when he moved back to the classroom until his retirement in 1986. Throughout retirement, he maintained his involvement with the college and the University. He passed away on Sept. 28, 2006, at the age of 91.
Dr. Simonetti is remembered for his outstanding contributions to the city of Akron, the University, his students, and colleagues. His legacy will continue as alumni and faculty pass on his passion for the college, business community and University family.