THE UNIVERSITY OF AKRON
Institute for Leadership Advancement
Enhancing leadership skills for students for 10 years!
Higher GPAs
Students who participate in ILA programs earn high GPAs
50+
Strategic partners that facilitate workshops, lead speaker series', provide internships, mentorship, and more
$2M+
Contributed towards student opportunities and experiences
About Institute for Leadership Advancement (ILA)
The Institute for Leadership Advancement offers The University of Akron's only comprehensive academic and co-curricular leadership programs to students of all academic majors and interests. Established within the College of Business Administration in 2012 through a gift from The J.M. Smucker Company, the Institute for Leadership Advancement was envisioned to develop new leaders who will positively affect business for future generations.
Why Join ILA Programs?
Expert faculty and industry professionals lead our classes and programs for a theory-to-practice experience that prepares our students to hit-the-ground running upon graduation. We provide opportunities through academic courses, co-curricular workshops and events, global immersions, leadership projects, and more. These meaningful experiences – both practical and through innovative leadership projects – prepare our students to grow into strong, impactful leaders.
Celebrating 10 Years of Partnership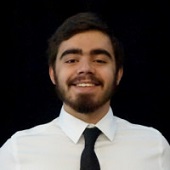 My classes helped me prepare for the actual work I was doing, while the Institute for Leadership Advancement helped me prepare for everything else in between.
Norman Elias
'22 Accounting
Programs
Leadership Designation Program
The Leadership Designation Program is a multi-level, comprehensive leadership program designed to empower students to make meaningful differences wherever their paths take them. The Leadership Designation Program provides many high-impact, experiential learning activities to prepare students to lead effectively at any level of an organization. This program is open to all UA students.
Students are placed into cohorts and move through workshops and speakers together at each level intended to help them gain insights into how their knowledge is applied in real-world settings, all while making connections with professionals. Students may complete one, two, or all three levels of the program, earning a certificate for each level during our annual Leadership Recognition Reception in April.
A developmental focus is evident in each level:
Rising Leaders: Personal Mastery, Ethics & Integrity
Established Leaders: Team & Interpersonal Development
Experienced Leaders: Leadership Experience Project in the Community Impact Program
How to Get Started:
Global Leadership Initiative
The Global Leadership Initiative is one of the Institute's signature programs. It gives students the opportunity to experience new cultures, practice leadership in diverse settings, and become comfortable being uncomfortable.
Past initiatives include trips to Italy, Jamaica, and Haiti. Since 2013, more than 150 students have had the opportunity to experience leadership in a different country.
Trips are open to any student on campus, regardless of major, and are led by UA faculty/staff members and student leaders. Each trip varies in purpose and cost, with the Haiti and Jamaica trips focusing largely on leadership through service, and the Italy trip focusing on international business leadership.
Upcoming Trips
:
Arizona – Spring Break 2023

Explore Phoenix and Sedona, AZ!

March 18-25, 2023

Experience culture in Phoenix with interactive sessions, company tours, alumni engagement, and mindfulness & self-leadership discovery in Sedona

All-inclusive – $999 per person

Register by March 2 to reserve your spot

*Limited spots available*

Ecuador – January 2024

More Information Coming Soon!
E-mail leadership@uakron.edu for more information on how the Institute can add to your success (general inquiry, a staff member will respond to schedule a one-on-one meeting)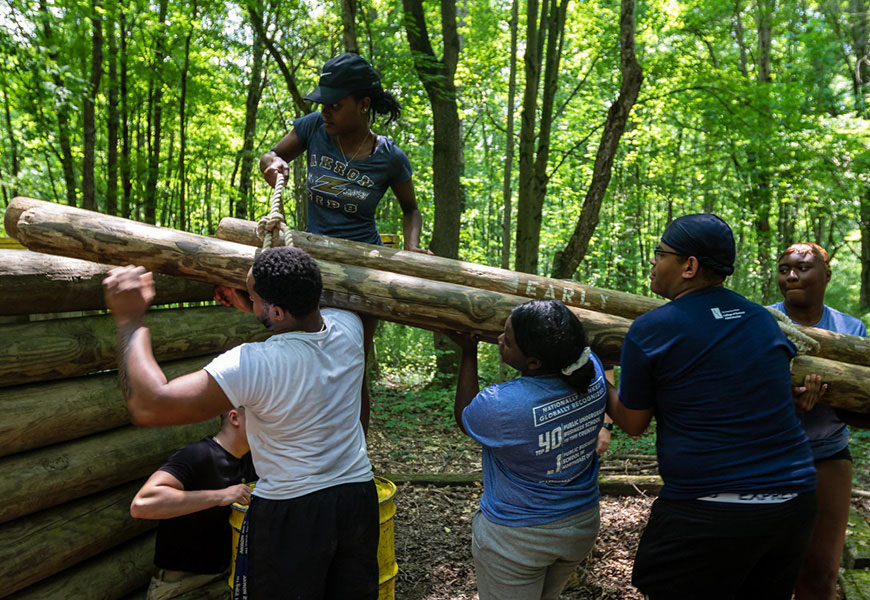 BUSN:200 Personal Leadership Skills
Leadership and problem-solving go hand-in-hand. BUSN:200 Personal Leadership Skills is a unique course that jointly develops both skills through hands-on learning experiences which take place over two, eight-hour Saturday sessions.
On the first Saturday of class, students are bussed to Camp Garfield in Ravenna, OH Joint, where they take part in a low ropes course with the guidance of the Akron Army ROTC. Here, students are outside of their comfort zones, immersed in a unique culture, learn how to work with and solve problems with new people.
The second Saturday of class brings the students back to campus where they use their experiences with the Army to guide them through trainings and conversations on emotional intelligence, ethics, and other important personal leadership skills.
Each year, more than 200 students complete this course, making it a favorite on campus. The partnership with the US Army has allowed us to sustain this course and brings together students and ROTC cadets for valuable leadership training.
Students who enroll in the Leadership Designation Program need to complete Personal Leadership Skills BUSN:200 as part of their Rising Leaders experiences.
How to Get Started:
All students can enroll by visiting My Akron and searching for the class from the undergraduate course catalogue. Enroll now!
Summer Leadership Academy
The Summer Leadership Academy is a five-week program for incoming first-year College of Business (CoB) students to immerse themselves in the University of Akron Experience through living on campus, taking CoB core classes, and participating in professional development activities. Students will be enrolled in two courses to get a head start, as well as take part in many activities that will happen outside of the classroom, including coaching, mentoring, and company visits with successful businesses located within walking distance of campus.
This program is designed for students who identify as first-generation and underrepresented (having a disability, LGBTQ+, students of color, etc.).
Diamond Graduate Women's Leadership Xperience
The Diamond Graduate Women's Leadership Xperience offers inter-disciplinary graduate-level women the opportunity to develop advanced professional, leadership, and communication skills. Students will receive advanced training in personal leadership, communication, and interviewing, receive one-on-one career coaching and mentorship, engage in unique networking situations with high-level professionals from industry, learn of various employment opportunities, and create rewarding relationships with an interdisciplinary group of like-minded colleagues. Full completion of the program will result in a certificate of completion signed by the Dean of the College of Business and award of accomplishment.
The program runs from January – December, with structured experiences during Spring, Summer, and Fall semesters. Applications open each November with screening and committee decisions commencing in December. E-mail leadership@uakron.edu for more information.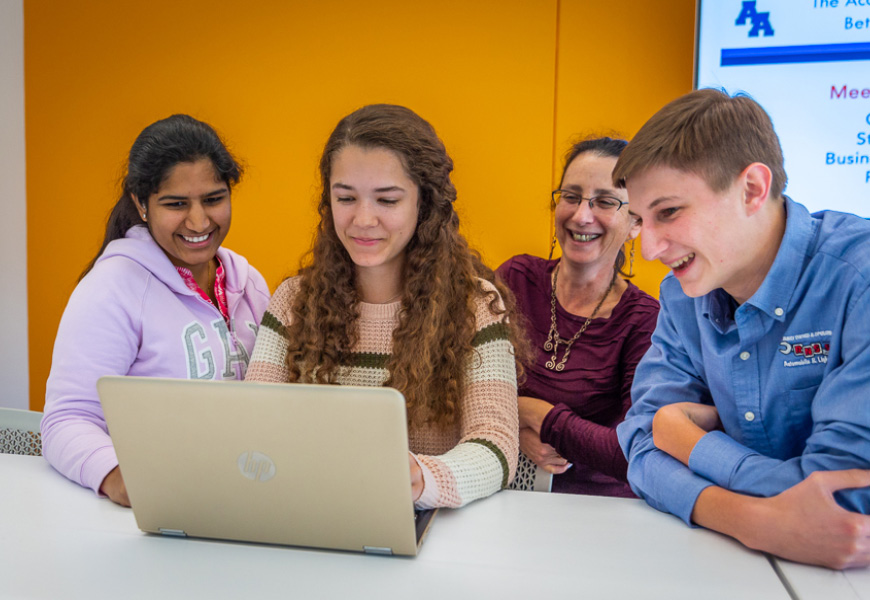 Community Impact Program
The Community Impact Program encompasses Leadership Experience Projects as the capstone of the Advanced Level of the Leadership Designation Program. Once students have completed Level 1 and Level 2 of the program, they have the option of completing the Advanced Level, which includes a project which focuses on a specific social issue that benefits both The University of Akron and City of Akron (and potential other) communities. Students who participate in the Community Impact Program receive up to $2,000 to complete a final project with up to 3 other team members. Students work with Leadership Institute staff to develop this project and propose.
These projects are action-oriented projects and include a research component, (optional) enrollment in a 3-credit hour course, and up to $2000 in award funding from the Institute. The funding of these projects allows students to take a risk, diversify their academic experience and receive opportunities that will help them stand apart from other college graduates. Students can use their funding for travel opportunities, research, programming, materials, technology, and more.
Past projects include:
developing leadership trips to Haiti and Jamaica
bringing a TEDx Talk to UA
partnering with local schools and creating a community garden
supporting local philanthropic work
developing a Human Trafficking awareness program
developing a Human Trafficking awareness program
financial literacy program for underprivileged youth
creating and legally organizing a local nonprofit