Erin Liggett
Coordinator, Career Services & Student Employment
Career Services & Student Employment, Career Advisor to the College of Business
Office: Business building – Professional Development Wing 172
Phone: 330-972-6445
Email: eliggett@uakron.edu
---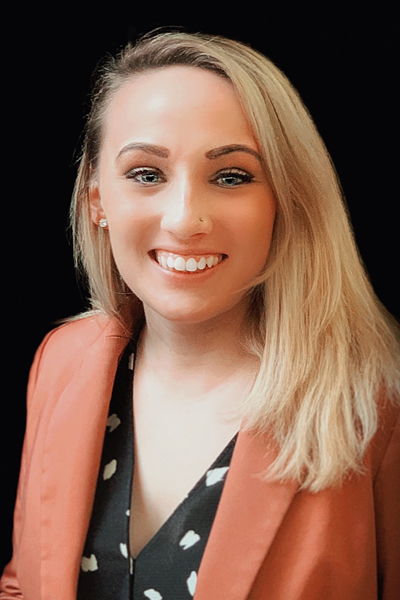 "I serve students in the College of Business as their career and internship coordinator."
---
Q: Can students simply drop by, or how would you prefer that they schedule time with you?
A: Students are always welcome to stop by my office in the Professional Development wing in the CBA, but are encouraged to schedule an appointment via Handshake or email.
Q: Discuss the ways you can help students.
A: I look forward to being useful to students through introducing them to the endless possibilities of careers that exist for them post-graduation and getting them excited about their next steps during and after college. I enjoy helping students narrow down the lateral and non-lateral career paths that exist for them by empowering them to define their greatest technical and soft skills and discover their preferred work environments. As the Internship Coordinator for the College of Business, I also look forward to supporting students through their internship, co-op, and job searches, assisting them with their internship or co-op approval, and hearing about their experiences at their sites while instructing the online co-op course.
Q: Why should students use Handshake? Do you have a Handshake power tip? What are students surprised to learn that they can do in Handshake?
A: Handshake is a powerful networking tool that connects students to employers, opportunities, peers, and brand themselves according to their area of focus. My Handshake power tip is that Handshake is what you make of it, meaning, that the more Handshake is used, the more powerful it can be. Handshake is like the Expedia of job boards – meaning, that it showcases a variety of jobs from different employers and industry for students of every major. The job possibilities that are posted on Handshake are endless. Students are always surprised to learn about how useful the filters are to assist in narrowing their search.
Q: What's the best tip you have for those writing a resume or cover letter? How can you help students prepare both?
A: For students that are writing resumes and cover letters, I always like to say that customization is key. Meaning, try tailoring your resume to every position that you apply to. This requires having a copy of the job description and noting ways in which you have already worked on the job duties in other positions. In addition to this, pull as many of the same words that describe the job duties as possible, as this will make your resume stand out to employers, especially when Applicant Tracking Systems (ATS) are used.
Q: What one interview question should students in your area be prepared for? What tips do you have for answering it? What's the best way to prepare for an interview? Do you conduct mock interviews with students?
A: Students should be prepared to speak to how they function on teams and individually. In business settings, professionals work both collaboratively and independently on projects that align with their company's mission and vision, so it is important that prospective employees can work in both fashions. To answer this question, keep a running list of specific examples where you have worked on independent projects and on team projects. For teams, remember to highlight the goal of the team, what your specific role was on the team, and how you contributed to the overall project's success. To knock this question out of the park, consider using the STAR (Situation, Task, Action, Result) interviewing method to keep your answer organized and concise. For practice with this, check out the Interviewing Guide from Career Services and schedule a mock interview with me via Handshake!
Q: How can technology can make a search easier? How has it made searches more challenging? How do you overcome that?
A: Technology is your best tool for staying organized as you apply for jobs, because you may be applying to anywhere between 1 and 30 jobs within a week. To make sure you remember the details about the jobs that you apply to, consider creating an Excel spreadsheet to track the details of the jobs that you applied to, such as the full and correct title of the position, the full name of the company, the name of any HR representative or hiring manager that has been listed, the date you submitted your application, dates for following up about your application, and more. Additionally, always remember to save a copy of the job description so that you have it, because the company may take the description off their website after the application closes. If you're called for an interview, this is exciting, but it could be challenging to prepare if you do not have a copy of the job description.
Q: Why should students attend the next career fair? What's your best advice for preparing? What's a good strategy the day of?
A: A career fair is a chance for your personality to shine and can be a great environment to practice your introduction and the articulation of your goals, attributes, and accomplishments before the interview. Fairs are also an opportunity to make a more memorable first impression by meeting representatives face-to-face prior to any application submission or interview offer. When preparing for a fair, actively practice your professionalism by using the resources available to you and attending Suit-Up Week. Suit-Up Week is hosted by the College of Business and is open to all students. Students will attend sessions in professionalism, personal branding, networking, resume and cover letter creation, and more. Many of the sessions are led by employers and alumni, so Suit-Up Week is a great opportunity to start networking prior to the fair. Before the fair, research the companies that you are most interested in speaking to and prepare a few questions about the company or industry that cannot be answered with a Google search or on the company's website. These questions can be great ice breakers when you want to speak to an employer and will communicate your interest in the company.