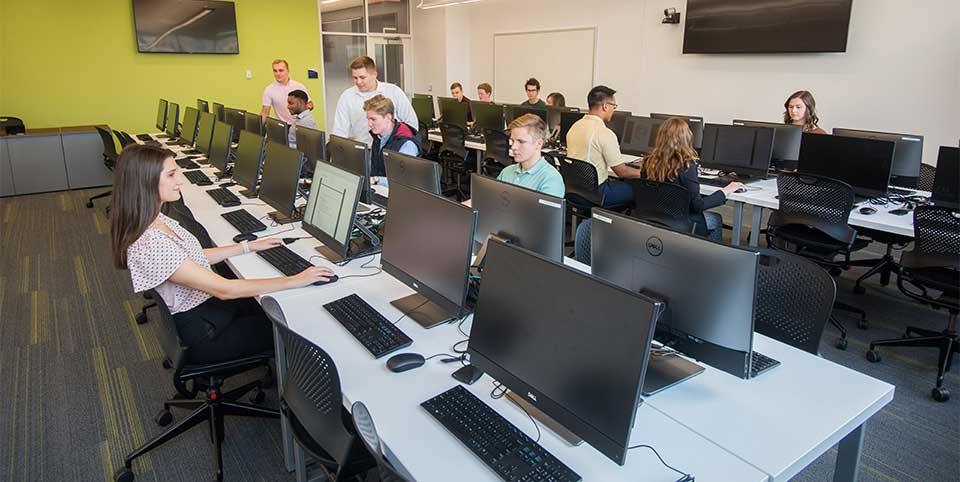 Learning Environments at the College of Business
The College of Business is located in the 81,000 square foot four-story College of Business Building and on the fifth floor of the Polsky Building, a block away from the CoB and connected by skywalks. The CoB building houses the college's offices, classrooms, computer laboratories, and advising services. The departments of Finance, Management, Marketing, the George W. Daverio School of Accountancy, the Fitzgerald Institute for Entrepreneurial Studies, the Fisher Institute for Professional Selling, the Institute for Global Business, and the Institute for Leadership Advancement share the building. All undergraduate and graduate programs are fully accredited by AACSB International — The Association to Advance Collegiate Schools of Business, with a separate accreditation for the George W. Daverio School of Accountancy. AACSB International is the most prestigious accrediting agency for business schools and AACSB accreditation represents the highest standard of achievement for business schools worldwide.
Computer Laboratories
The CoB Computer Laboratories provide students with over 250 computers. Technology enhanced classrooms help provide a state-of-the-art teaching environment. This facility consists of data analytics labs, hybrid teaching capable computer labs, and specialized labs for specific coursework including a couple of bring your own device technology labs. Students can borrow technology to help complete their assignments. Laptop Bars have been installed for student use through the College of Business facilities. Students can access the latest software packages within these labs. Students can download and access software for their use at the College of Business Microsoft Azure Dev Tools Website at no additional charge.
Sales Laboratory
The Carl V. and Clyde A. Fisher Sales Laboratory provides the University of Akron students with nine, state-of-the-art lab rooms, featuring dual cameras and cloud-based recording capabilities. Students can instantly watch recorded video content to allow immediate feedback and improvement. Effective August 2021, we have introduced the first university based Sales Biometrics Lab in the country featuring the use of infrared camera technology capturing facial heat change, along with iMotions software technology capturing heart rate, hand temperature, hand sweat via GSR, facial expression change and iris change of the eyes…all indicators of stress. Added to video recordings with dual cameras, this allows our research to time-line the impact of sales stress during a role play, leading to new innovation in sales training, practice, coaching and measurement of sales presentation skills for future sales graduates.
Finance Laboratory
The Mary S. and David C. Corbin Finance Lab is a state-of-the-art facility that provides an advanced learning environment by offering students the unique opportunity of pulling information from a wide range of sources and presenting it simultaneously on multiple screens. It features five workstations with computer access to Internet financial databases, financial news sources (e.g. CNBC), databases such as WRDS, which includes Compustat and CRSP, and slightly delayed trading data. A sixth projector/screen is linked to an instructor's station.
Analytics Laboratory
The Becky Babcox Business Analytics Lab was established in 2014 as part of an effort to emphasize business analytics in the undergraduate Business Core Curriculum. This state-of-the-art collaborative lab has 44 student stations and and 11 collaborative stations to provide an optimized and dynamic environment for students to gain hands-on training in all aspects of business modeling.
Direct Marketing Institute
The Gary L. and Karen S. Taylor Institute for Direct Marketing occupies approximately 32,000 square feet on the fifth floor of the Polsky Building. The facility boasts a creative lab, an analytical lab, a call center, an applied research center, several direct response laboratories, a student learning suite, an entrepreneurial incubator, offices for the Institute and an executive education suite. The college's direct marketing and executive education programs are housed in these facilities.
Applied Marketing Research Laboratory
The Benjamin and Nancy Suarez Applied Marketing Research Laboratories, located on the fifth floor of the Polsky Building, feature a Cognitive Research Laboratory with state-of-the-art technologies focusing on techniques such as eye tracking and brainwave and physiological analyses; a Marketing Intelligence Laboratory with eight workstations and two teamwork stations where students and faculty can develop comprehensive market intelligence reports; an Experiential Research Laboratory where students and businesses use techniques such as facial coding software to test the effectiveness of various types of advertising; and the Suarez in the Square Classroom, a class space built in an amphitheater format.
Offices, Conference Rooms, and Study Spaces
The CoB building houses five conference rooms and more than 150 faculty, staff and student organization offices. Offices of 15 active business student organizations are located in the James Dunlap Student Organization Suite just off the building's atrium lobby. Student organizations offer opportunities for development of social, professional, leadership, and networking skills through interaction with business professionals and other students.
Academic advising services for both graduate and undergraduate students are easily accessible on the second (undergraduate) and fourth (graduate) floors. Study spaces, where students can work individually or in groups, are located throughout the CoB building, and a Study Lounge, open to all CoB students, is housed in an adjoining building. The Study Lounge provides carrels for quiet individual study and tables where up to four students can study together. There is also a room equipped with a white board where groups can collaborate on projects.