Welcome New UA Business Faculty
11/08/2022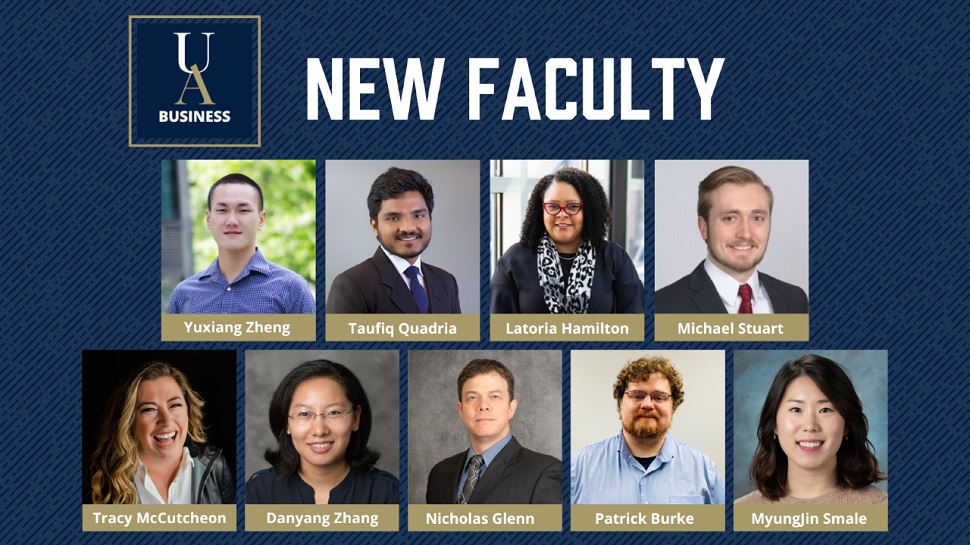 The University of Akron (UA) College of Business (CoB) is pleased to welcome nine new full-time faculty members!
Accounting
Michael Stuart, MBA, CPA
Visiting Assistant Professor of Practice, Accounting
Teaching Assurance Services & Professional Responsibilities in addition to Spreadsheet Modeling & Decision Analysis, Michael Stuart, CPA, MBA, joins the College of Business George W. Daverio School of Accountancy. As a CoB alum having earned his Master of Business Administration with a concentration in Finance, Stuart returns to UA as adjunct faculty while also managing his own accounting business that caters to small-to-medium-sized businesses throughout Northeast Ohio.
Yuxiang Zheng, Ph.D.
Assistant Professor, Accounting
Teaching Accounting Principles 1, the CoB welcomes Yuxiang Zheng, Ph.D., recipient of the Paul Chwelos Teaching Excellence Award and a AAA/Deloitte Foundation/J. Michael Cool Doctoral Consortium Fellow. Zheng's research focus includes financial accounting and the disclosure of intangible assets, with recent projects exploring the determinants and consequences of non-traditional disclosure channels of firms' research activities, including patent documents and corporate scientific publications.
Economics
Patrick Burke, Ph.D.
Visiting Assistant Professor of Instruction, Economics
A professor for the Economics 100 & 200 courses, Dr. Patrick Burke joins the CoB after earning his Ph.D. in Economics in 2022 from Michigan State University. Burke's research is focused on monetary policy and labor supply.
Nicholas Glenn, Ph.D.
Assistant Professor of Instruction, Economics
Dr. Glenn received his Ph.D. in Economics in 2022 from University of Alabama, Tuscaloosa, with research interests in macroeconomics and monetary economics, more specifically in monetary policy and banking with digital currency.
Danyang Zhang, Ph.D.
Assistant Professor, Economics
Danyang Zhang joins the CoB as an Assistant Professor of Economics to teach Economics 244 (Introduction to Economics Analysis) and Economics 333 (Labor Economics). Zhang is a recent Fall 2022 recipient of Purdue University's Teaching Academy Graduate Teaching Award, the IPUMS Excellence in Research Award and Krannert Teaching Academy's Graduate Student Teaching Award. While Zhang's main areas of research include international trade, labor economics and applied microeconomics, current work includes the impact of cultural transmission via international trade on gender discrimination, consumer discrimination towards Chinese products post COVID-19, and the effects of international trade on income inequality in China.
Finance
Latoria Hamilton, MBA
Associate Professor of Practice, Finance
Joining the College of Business and teaching Life & Health Insurance, Insurance Operations, and Property & Casualty is Latoria Hamilton. Hamilton, who is a member of business honor society, Delta Mu Delta, serves as the chapter advisor for Gamma Iota Sigma at UA. Additionally, Hamilton is on the Board of Directors for Legacy III, an organization that assists women in Summit County who are recovering from substance abuse and alcoholism.
Taufiq Quadria, Ph.D.
Assistant Professor of Instruction, Finance
Dr. Taufiq Quadria comes to Akron from Texas Tech University where he received his Ph.D. in Personal Financial Planning. Quadria's research includes perception bias in financial knowledge, psychological well-being, financial well-being, psych-social capital, personality traits, and consumer behaviors. Teaching financial planning, retirement planning, and investment/asset management, Quadria is the recipient of several academic and conference scholarships in addition to earning first place at the Industry Issues Competition – Financial ConNEXTion Cruise put on by the Society of Financial Services Professionals and an event that The University of Akron College of Business participates in.
Marketing
Tracy McCutcheon, MA
Visiting Assistant Professor of Practice, Marketing
Bringing 30 years of creativity and strategic brand marketing expertise to the classroom, Tracy McCutcheon teaches Strategic Brand Management, Consumer Behavior, Marketing Principles as well as a variety of professional workshops within the UA College of Business. Focused on appreciating design, practicing the art of insight-driven marketing, and bringing creativity and inspiration to interdisciplinary marketing teams, McCutcheon's career has been steeped in the advertising and marketing industry. McCutcheon enjoys watching her two children play competitive soccer, taking her golden retriever on long walks, skiing, hiking, traveling, and enjoying good food, wine, and live music with friends.
MyungJin (Jin) Smale, Ph.D.
Assistant Professor, Marketing
Dr. Jin Smale joins the UA College of Business and currently teaches her passion and research focus, consumer behavior. Smale's dissertation was on color marketing and the exploration of the effect of color on a non-profit organization's logo and what worked best for their brand image. Previous research has included: Consumer self-uncertainty increases price dependency and Color darkness and hierarchy perceptions: How consumers associate darker colors with higher hierarchy. Previously at St. Ambrose University, Smale received an Excellence in Scholarship Award. Outside of the classroom, Smale considers herself a big foodie and enjoys trying local street food over fancy restaurants.
Share